The Palais's function room
Image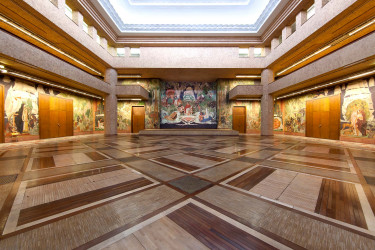 Le forum, photo Lorenzö, © Palais de la Porte Dorée
Image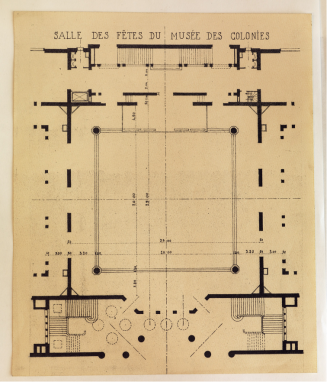 Plan salle des fêtes,
© AN
Designed by architects Léon Jaussely and Albert Laprade for the International Colonial Exposition of 1931, the Palais de la Porte Dorée represents a clever compromise of classic references, exotic inspiration and modernity. On three levels, the building is organised around three empty areas surrounded by galleries with the function room (now the "forum") in the centre, opening onto the approach to the main entrance; the platform situated on the opposite side indicates its festive purpose. In addition to its volume (875 m² and 22.5 m high), this room stands out through its roof and its décor (frescoes and paving).
For the roof of the function room, Jaussely and Albert Laprade designed an original capstone. Covering a large square room with anything other than a dome was uncommon at the time, and lighting it so that the natural or artificial lighting was not apparent from any point in the room represented a challenge. Albert Laprade opted for indirect lighting through a system of tiers forming a pyramid. That central pyramid was made up of a series of hollow concrete parallelepipeds resting on each other, like a staircase pyramid, and its vertical walls featured drilled openings concealed by overhanging platforms. This ingenious system was cited as an example at the conference organised by the International Office of Museums in Madrid on architecture and the development of museums (1934).
Image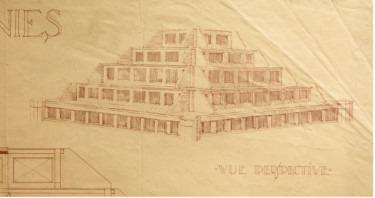 Vue perspective toiture,
© AN
Image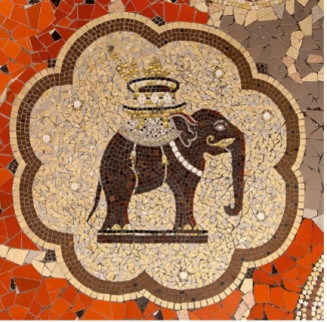 Mosaïques forum
Photo : Lorenzo © Palais de la Porte Dorée
The mosaic paving was created by the Gentil et Bourdet company, located in Boulogne-Billancourt: swastikas and patterns of Dogon inspiration against a red background for the central tiered part (today covered with a parquet) and, around the edges, decorative medallions designed by Laprade, which drew from the Indo-Khmer repertoire (dancing god, helmeted warrior, winged dragon, elephant).
The mosaics combined several techniques and materials: stone tiles and stone or glass mosaic tesserae (with a gold leaf background).
In 1931, the function room played host to many festive events: ceremonies, banquets, concerts, conferences. After the Colonial Exposition, the museum was assigned a series of purposes but this space would keep its festive function: musical or dance shows at the Musée des Arts Africains et Océaniens; a wide variety of events at the current Établissement Public du Palais de la Porte Dorée, which houses the Musée National de l'Histoire de l'Immigration. While events on the theme of immigration held in a setting glorifying colonisation might not seem the most obvious choice, it is important to take a step back from what is nevertheless a remarkable testimony to a bygone era, and that contributes to the total work of art idea intended by Laprade.