Image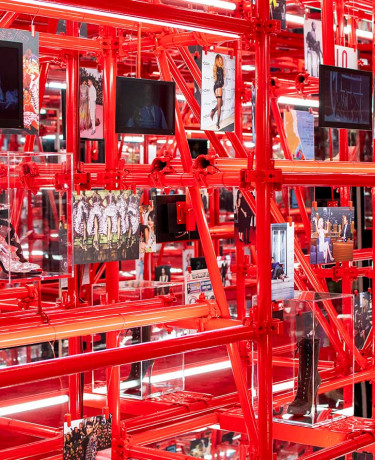 Exhibitions
Christian Louboutin : L'Exhibition[nist]
26 February 2020 - 3 January 2021
Exhibitions
Christian Louboutin : L'Exhibition[nist]
26 February 2020 - 3 January 2021
26 February 2020 - 3 January 2021
Image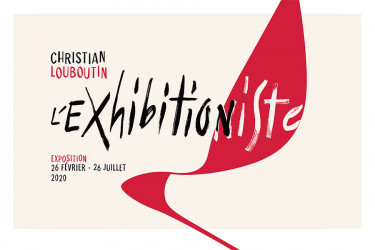 Designed as an invitation to discover Christian Louboutin's rich universe, the exhibition will explore every facet of his multi-referential work, in an institution that has played an important role in inspiring his vocation.
From the beginning, Christian Louboutin infused his designs with a great wealth of motifs and colours inspired by his love of art and different cultures. Flamboyant, daring, open to the world, generous and at times caustic, the designer's creativity is informed by a passion for travel and references from the worlds of pop culture, theatre, dance, literature and cinema.
In revealing Christian Louboutin's inspirations and creative processes, the exhibition will showcase the designer's vision through a selection of the most precious works from his personal collection and loans from public collections. A large selection of shoes will be on display, some of which have never been exhibited before.
Image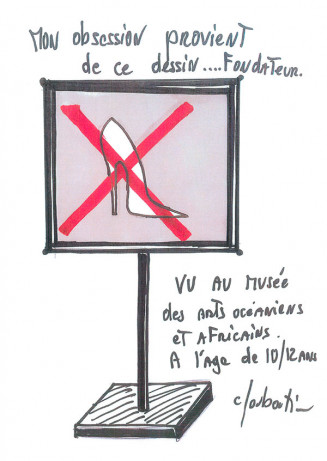 Panneau de signalétique à l'origine de la vocation de Christian Louboutin © Christian Louboutin
These historic and artistic pieces will be shown alongside a number of exclusive collaborations which pay tribute to Christian Louboutin's admiration for craftsman's know how. Some examples include stained glass panels created by the Maison du Vitrail, a Sevillian silver palanquin and a cabaret sculpted in Bhutan.
The exhibition will also unveil collaborations, never seen before, with artists who are important to him: the director and photographer David Lynch, the New Zealand multimedia artist Lisa Reihana, the British designer duo Whitaker Malem, the Spanish choreographer Blanca Li, and the Pakistani artist Imran Qureshi, amongst others.
Image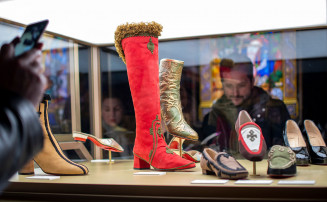 Christian Louboutin : L'Exhibition[niste]
Anne Volery © Palais de la Porte Dorée
Image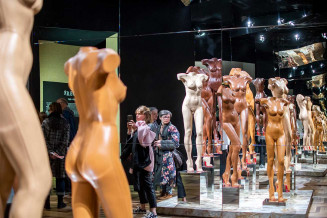 Christian Louboutin : L'Exhibition[niste]
Anne Volery © Palais de la Porte Dorée
Christian Louboutin
Image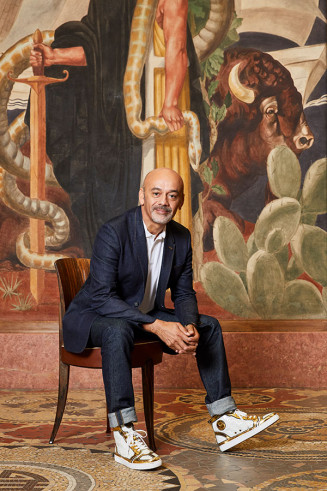 Christian Louboutin au Palais de la Porte Dorée © José Castellar
Born in the 12th district of Paris, close to the Palais de la Porte Dorée, Christian Louboutin was fascinated from an early age by the architectural beauty and ornamental richness of the institution, which was one of the earliest influences feeding his love of art and applied
arts. He borrowed a whole repertoire of forms and motifs from the Palais for his first designs, including the Maquereau shoe – made of metallic leather and directly inspired by the iridescence of the fish in the Palais de la Porte Dorée's tropical aquarium. It was also at the
Palais, a masterpiece of Art deco, that Christian Louboutin, then a young adolescent, noticed a sign forbidding visitors to wear high heeled shoes. This sign subsequently inspired the iconic Pigalle shoe which has been reinvented over the course of the seasons.
With this exhibition, the Palais de la Porte Dorée initiates a new programme of events dedicated to contemporary creation.
Exhibition curator
Olivier Gabet, director of the Musée des Arts Décoratifs.
Selection of photos of the opening of the exhibition in our Flickr album