The Asia Salon and Printz furniture
Situated in the south-east corner of the Hall of Honour of the Palais de la Porte Dorée, and matching the Africa Salon on the other side, the purpose of this ceremonial salon during the 1931 Colonial Exposition was to house the office of Maréchal Lyautey, general commissioner of the exposition. It was named Asia Salon for the frescoes and furniture decorating it. It is one of the spaces classified as historic monuments since 1987.
Image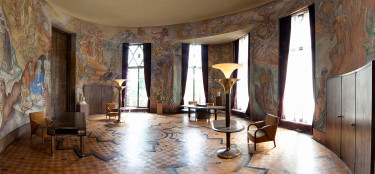 Le salon ovale du maréchal Lyautey, photo Lorenzö, © Palais de la Porte Dorée
The design of the salon has made it a reference of the Art Deco art movement, which developed between 1910 and 1940, due to its monumental dimensions with a surface area of 90 m², its minimalist design, the rigorous composition of its geometric lines (the perfect oval shape of the salon) and its use of rare and precious woods.
The decoration highlights the figure of the interior designer, a "must" in the decoration world at the time. Eugène Printz (1889-1948) designed all the décor, conceived as a total system, mastering the entire creative process: the design of the furniture, the patterns on the marquetry floors, the choice of materials for the wood trim of the décor, etc.
The flooring consists in marquetry made from precious wood, whose different shades (from lightest to darkest) allowed Printz to draw highly contrasted patterns, geometric and concentric, echoing the spherical shape of the salon. The woods used were bilinga from Gabon (very orangey colour), featuring a checked pattern, with zig-zag patterns in wene wood and ebony edging.
For the furniture, Eugène Printz chose patawa palm wood (bark from the Gabon palm tree), considered to be the hardest wood and the most difficult to work with, which increased its price. Printz also worked on this wood for the veneer of the two monumental doors 5.40 metres high, with their golden bronze lock, and for the casing, skirting boards and cupboard doors, giving the salon a stylistic unity and aesthetic, reinforcing the idea of a total work of art so characteristic of Art Deco.
The furniture in the salon was specially created by Printz, which makes them unique pieces: a large two-tier desk, a drawing table, two lamp tables with double lamps and a pivoting shelf supported by a metal arc, armchairs made from lacquered wood with curved elbow rests and velvet upholstery.
The frescoes created by André and Ivana Lemaître represent the philosophical and artistic contributions made by Asia to metropolitan France. The characters and scenes portrayed draw inspiration from Buddhism, Hinduism and Confucian thinking, with illustrations of Krishna playing the flute, Buddha meditating and Confucius teaching his disciples
In video
Le Salon Lyautey © Palais de la Porte Dorée, 2021
Also to be read
Eugène Printz, Guy Bujon et Jean-Jacques Dutko, Éditions du Regard, 1986